Zukunftsforum 2018: Designing Digital Cities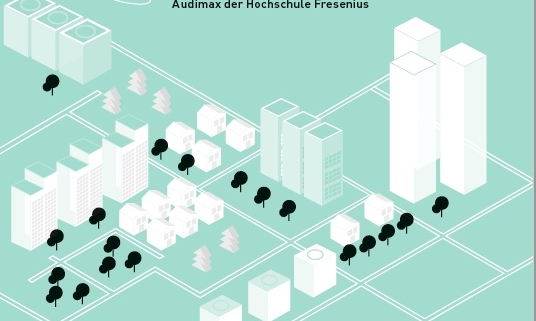 On May 16, 2018, the University of Applied Sciences Fresenius Munich presented and discussed the topic "Designing Digital Cities" for the first time together with the Academy for Fashion and Design AMD at the Zukunfts Forum (Future Forum) 2018:
How do we live and move in the future?
Which technologies will become important and what does this mean for people?
How does #NewMobility affect our quality of life?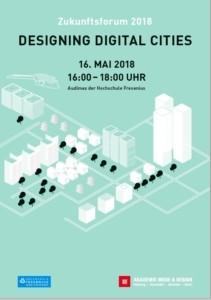 Munich can look to the future, but other cities are currently faster
In the fully occupied Audimax, curator and presenter Dr. Hans-Peter Kleebinder greeted the audience and three global experts from the metropolises of London, Shanghai and Copenhagen with a strong personal connection to Munich with the following question:
What must happen that Munich, as the epicenter of the mobility industry, once again experiences a similar modernization push as it did last in 1972 at the Olympics?  
What are the premises and possible solutions for this?  
Munich has already shown convincingly how to cope with the future: In the only six years from 1966 to 1972, the city made itself fit for its 1972 Olympic Games and catapulted itself forward by a whole generation span with the infrastructure created for this purpose.
Car traffic shapes our cities
Our cities today are infrastructure built around the automobile. The basis for this is the 1920 Athens Charter, which postulated the separation of living, producing and shopping as the basis for global urbanization. This flood of cars has taken over the cities through urban highways and expressways. Almost all other available areas were diverted for parking traffic. In major German cities, traffic and parking space account for around 40 percent of the total urban area, in Los Angeles 80 percent. Nevertheless, people in cars are by no means always mobile. In Beijing, the Chinese capital, people spend 75 minutes a day, well over an hour in traffic jams; that's about one working day a week. In Los Angeles, motorists spend more than 100 hours a year in traffic jams, in New York over 90, in Munich over 50, in Hamburg, Berlin and Stuttgart 44, in Cologne and the Ruhr 40 – in other words, more than one working week a year even there.
Urbanization as a driver of traffic congestion and air pollution
Contemporary and sustainable quality of life looks different. Once upon a time, the separation of functions in cities should serve, among other things, to improve air quality in residential areas. Today, road traffic pollutes the air everywhere in cities massively. Just one example: In Paris, air quality is the top priority issue for the population;47 percent of respondents cite it first, followed by housing (46 percent) and education (37 percent). Anyone who wants to improve our quality of life must move from outdated auto-centered mobility to "human-centered" #NEWMobility, a new form of mobility that does not reduce voluntary mobility and requires multimodal transport services, i.e. choices between sufficiently short footpaths, sufficiently safe cycle paths, sufficiently frequent buses and trains, and easy transfer options.
Collective taxi (in Dubai, electronically linked pods of the start-up NEXT are on the move),
car sharing (1.7 million people in Germany used it in 2017) and
ride sharing (BlaBlaCar as the EU market leader with 55 million rides in 2017).
A basic requirement of this multi- and intermodal #NEWMobility is its availability, another is its networking. In London, this is done by the Citymapper app and creates transparency about the available means of transport for the mobility route preferred by the individual situation and person. One solution is an app on your smartphone or Smartwatch as a personal assistant for the organisation of individual mobility needs – the travel agency for every route from A to B in your jacket pocket, which individualizes and anticipates and learns to reserve, book and bill for us.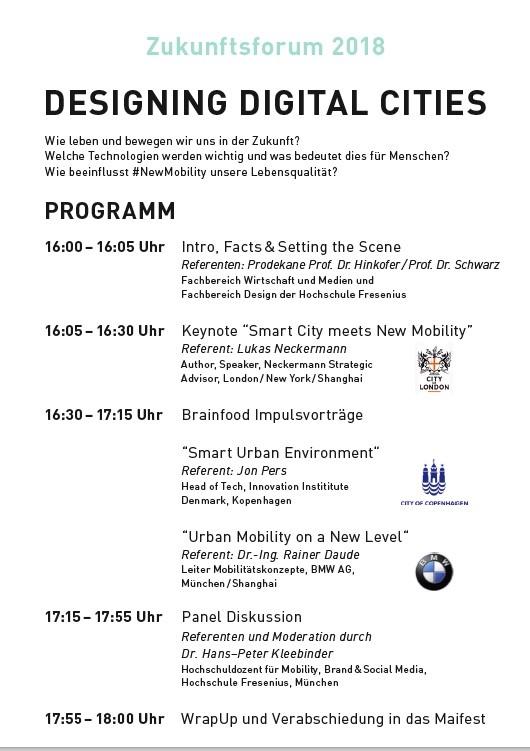 These possible premises and concrete solutions of one of the climate-neutral, intermodal and networked #NEWMobility outlined the "Future Forum 2018: Designing Digital Cities" of the Fresenius University of Applied Sciences on 16 May 2018 in Munich.
Solutions from Copenhagen, Shanghai and London
Jon Pers, Head of Innovation at the Danish Innovation Center in Munich, presented the example of Copenhagen: The city has to decide what it spends money on: whether for pedestrians, cyclists or the car. In the Danish capital, local politics has given priority to sustainability, liveability and technology, with cycling being given priority 1. The result: 45 percent of commuters come to work or school by bicycle.
Dr. Rainer Daude, responsible for new mobility concepts at the BMW Group, presented "Vision E³ Way", an innovative solution approach for megacities. E³ stands for "elevated, electric, efficient" – the characteristic features of the idea, which was developed in and for Shanghai: a modular, largely roofed and thus comfortable and safe elevated road over the existing city highways as a model for electrified pedelecs, scooters and motorcycles. The speed of these vehicles will be limited to 25 km/h and electronically controlled – with free driving on intersection-free routes. Will there be robot routes in the future according to this model, lanes for self-propelled cars, alongside car, pedestrian, bicycle and bus lanes?  Munich, as the Future Forum showed, with its mobility-oriented hardware and software companies is predestined for #NEWMobility as a model city and global #NEWMobility hub:
Traditional mobility companies such as BMW and MAN and within a radius of only 245 kilometres Mercedes, Porsche and Audi, new mobility offers such as FLIXBUS/Flixmobility, Clunno but also new mobility providers Lilium Aviation, Volocopter, the TU project Hyperloop and
new players on the market such as Tesla, Sono Motors, Byton and Faraday and the EU Mobility Cluster of TUM.
So far, however, other cities and metropolises such as Singapore, Dubai, Paris and London have outstripped the Bavarian metropolis.
The author and consultant for #NEWMobility, Lukas Neckermann, who grew up in the USA and works in London and Munich, was not surprised. The more traditional mobility providers, especially automobile manufacturers, are rooted in a location, the more the question of how their jobs can also be preserved in #NEWMobility counts. Neckermann calculated ahead: Private cars, which are usually only used in the morning and evening on the way to and from work, stand around 95 percent of the day unused. In Car-Sharing, cars are used intelligently six times more often than a private car several times a day. If everyone were to use Car-Sharing services and if flexible working hours allowed this, the demand for new private cars could be reduced to one-sixth – a blessing for cities plagued by cars, but an existential problem for car manufacturers. Even if they can cope with climate change with electric cars as a necessary (transitional) solution. Digitization and #NEWMobility will transform the image of our cities
As the discussion moderated by Dr. Hans-Peter Kleebinder at the Future Forum showed, #NEWMobility has not only friends, but also natural opponents. Nevertheless, it must and will come and give answers to the questions:
Will our city still look like a city in the future? 
Will our car still look like a car in the future?
The digital revolution offers new approaches, solutions and design possibilities for improving our quality of life for a better and more sustainable future for us and our future generations.  
https://kleebinder.net/wp-content/uploads/2018/11/Designing-Digital-Cities-Plakat-Kleebinder.jpeg
762
536
hpk
https://kleebinder.net/wp-content/uploads/2018/10/Kleebinder.net-Logo-header-weiss-e1539092806516.png
hpk
2018-07-26 09:00:19
2020-01-06 14:29:13
Zukunftsforum 2018: Designing Digital Cities